Justin Trudeau joins 'Barbie' bandwagon with son Xavier post-divorce announcement
Canadian PM Justin Trudeau and his oldest son Xavier posed in front of 'Barbie' poster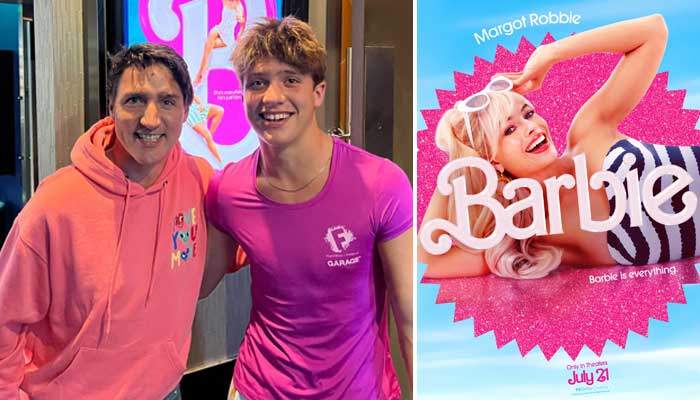 Canadian Prime Minister Justin Trudeau joined the Barbie bandwagon as he stepped out to watch the Greta Gerwig's blockbuster hit in theatre with his oldest son Xavier over the weekend.
The father-son duo twinned in pink outfit for the movie, which has successfully crossed one billion-dollar mark on the world-wide box office just two weeks after its release on July 21.
Trudeau turned to his Instagram handle and shared a picture in which, the duo can be seen posing together with a Barbie poster in the backdrop.
In the picture, Justin Trudeau was seen rocking a neon hoodie and his son sported a hot pink T-shirt. "We're team Barbie," read the caption of the post.
Justin Trudeau's latest post came four days after he announced separation with his wife, Sophie Grégoire. The couple also shares daughter Ella-Grace, 14, and son Hadrien, 9.
On Wednesday, Trudeau posted a statement on Instagram, "Hi everyone, Sophie and I would like to share the fact that after many meaningful and difficult conversations, we have made the decision to separate."
"As always, we remain a close family with deep love and respect for each other and for everything we have built and will continue to build," he continued. "For the well-being of our children, we ask that you respect our and their privacy. Thank you."
The Prime Minister's office also confirmed the separation news, noting in a statement that the couple already "signed a legal separation agreement."
The official statement revealed that Trudeau and Grégoire, who tied the knot in May 2005, "have worked to ensure that all legal and ethical steps with regards to their decision to separate have been taken, and will continue to do so moving forward."
"They remain a close family and Sophie and the Prime Minister are focused on raising their kids in a safe, loving and collaborative environment," the statement continued. "Both parents will be a constant presence in their children's lives and Canadians can expect to often see the family together."

For more Entertainment news, follow us on
Google News
and don't miss out on the latest updates!