Kate Middleton debuts as Fleet Air Arm Commodore-in-Chief
Princess Kate had the privilege of inspecting Merlin MK4 helicopter, used by the Royal Marine Commandos for disaster relief missions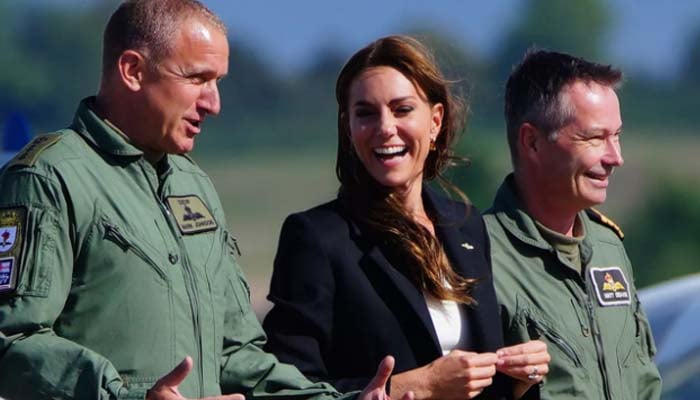 Kate Middleton, made a historic mark in her royal journey as she undertook her inaugural engagement as Commodore-in-Chief of the Fleet Air Arm (FAA).
Appointed to this role by King Charles earlier this year, Princess of Wales embarked on her first official duty.
The setting for this significant event was the renowned Royal Naval Air Station (RNAS) Yeovilton in Somerset, UK.
Her appointment as Commodore-in-Chief followed the tenure of Prince Andrew, who held the role until 2022.
During her visit, Princess Kate actively participated in a range of activities that demonstrated her unwavering commitment to understanding the intricacies of the Fleet Air Arm's operations.
Her day commenced with a hands-on experience at a helicopter flight simulator, followed by an exploration of survival equipment usage.
Venturing into the Air Traffic Control (ATC) tower, she interacted with the diligent staff and witnessed aircraft operations on the airfield.
Kate also engaged in enlightening conversations with an airborne Wildcat helicopter crew, gaining valuable insights into their roles and responsibilities.
Continuing her tour, Princess Kate proceeded to a hangar where she met with aircrew and personnel, including the Royal Navy Survival Equipment (SE) Technicians.
These highly skilled professionals are responsible for ensuring the functionality of crucial equipment such as flotation gear, helmets, and clothing worn by aircrew.
The technicians even guided Princess Kate through various training exercises, offering her a firsthand understanding of their vital contributions.
On the other hand, Princess Kate had the privilege of inspecting a Merlin MK4 helicopter, a vehicle used by the Royal Marine Commandos for disaster relief missions across the globe.

For more Entertainment news, follow us on
Google News
and don't miss out on the latest updates!