Khloé Kardashian encourages body positivity as she extends support to Remi Bader
Khloé Kardashian extended her support to the TikTok star Remi Bader by saying, 'You are perfection'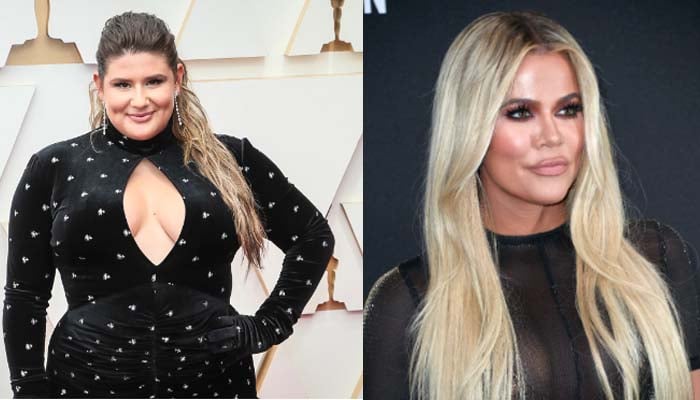 Khloé Kardashian showed heartwarming support for social media influencer Remi Bader with profound admiration and encouragement.
The Keeping Up With Kardashian star took her Instagram story and expressed her heartfelt sentiments declaring, "You are perfection," while also highlighting the radiant nature of Remi's soul.
Khloé began the post, "Just a little @remibader appreciation post."
 She further added, "You are perfection just as you are. Exactly As you come. In all phases, you are perfection. Never forget that your soul sparkles, your smile is magic and your heart is pure."
The post included an image of Bader taken on the pink carpet during this month's Victoria's Secret World Tour Fashion Show. 
Bader was also appointed as a Victoria's Secret PINK ambassador in the previous year.
In response to Khloé's heartwarming post, the TikTok star reposted the picture on her story along with the caption, "I love you so much."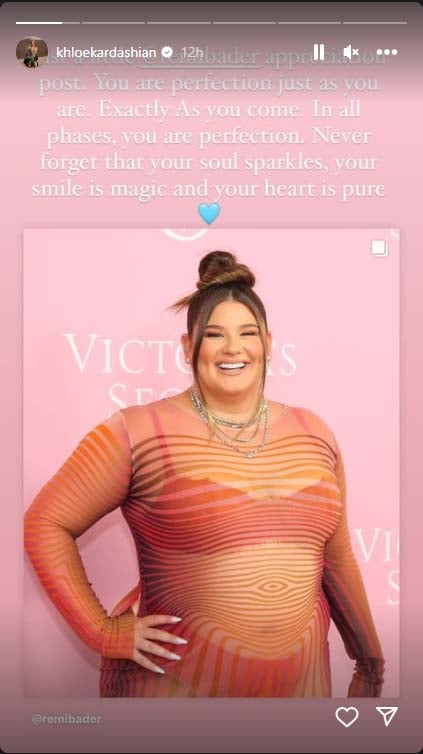 The Kardashians star shared the appreciation post after Bader posted the video which she captioned, "I'm not going anywhere but my personal health journey will no longer be shared with you all. Thanks for understanding."
In the video, Bader discussed the negative comments she had encountered on the internet, and she made a plea for individuals to refrain from making comments about her appearance.
The 28-year-old expressed, "I try to not look at the really mean things online the best that I can because it really saves my mental health by not looking at it."
She further stated, "[But] there's been a ridiculous amount lately of body shaming and saying things I already know, like I don't need to hear it again. So saying things like how much bigger I got or how much weight I've gained and how unhealthy I look or whatever it is."
Bader went on to say that her health journey, "will now be my business, what I choose to do, whether that's gain or lose weight, medications I take, supplements I take, my workout routine, whatever it is, I'm not going to share."
Remi Bader posted a tearful video and in conclusion, she said, "I want to share with the world everything going on in my day-to-day [but] … shaming someone [for] the way they look every single day is so disgusting … It's really not fair to just see really mean, mean things. I'm taking care of myself the best that I can."

For more Entertainment news, follow us on
Google News
and don't miss out on the latest updates!