'Tere Bin 2' or 'Khuda Aur Mohabbat 4'? Abdullah Kadwani asks fans on Twitter
'Tere Bin' and 'Khuda Aur Mohabbat' producer Abdullah Kadwani asked fans which series should have its next season released first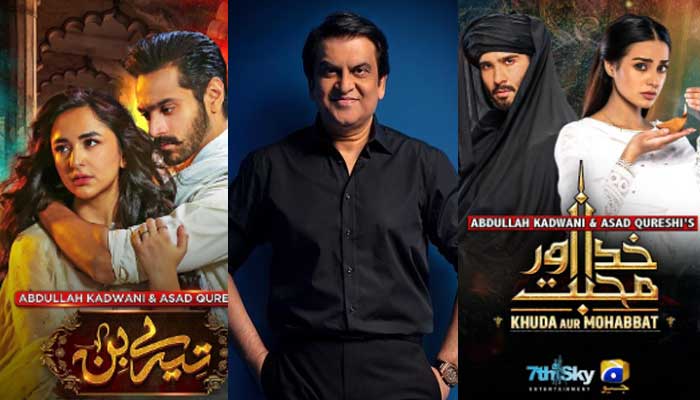 The Tere Bin and Khuda Aur Mohabbat producer is seemingly indecisive about which series should have its next season come out first.
Tere Bin, the GEO Entertainment series starring Wahaj AIi and Yumna Zaidi in the leading roles created quite a buzz since its first episode airing on December 28, 2022.
The series have been a compelling roller coaster ride of emotions, revenge, romance and core family values, while Khuda Aur Mohabbat, as can be understood by its name was based on the connection of love and spirituality. The 3rd season of the drama saw Iqra Aziz and Feroz Khan as the main leads.
Both, Khuda Aur Mohabbat and Tere Bin garnered immense love and praises from not only Pakistani audience but also from the fans in India and foreign regions.
Keeping in mind the anticipation regarding the respective next seasons of both Tere Bin and Khuda Aur Mohabbat, Kadwani preferred to ask fans which one they want to watch first.
Taking to his X (previously Twitter) account on Sunday, the Ruposh producer shared a tweet that read, "Dear Viewers & Fans.. Pls let us know what you want first.. Khuda Aur Mohabbat Season-4 or Tere Bin Season-2.. Your preference matters & inshaALLAH we will make an announcement soon.. Love you all."
Moments after the Khaani producer dropped the message, enthusiastic fans could not hold their excitement and shared their personal preference between the two block buster hit series.
With majority of fans voting for Tere Bin using the hashtag YumHaj, they also shared some fruitful advices regarding the series, as it previously attracted huge backlash for its bizarre plot twist including marital rape.
One fan commented, "Of course TB S2 with a reasonable plot. We don't want any unrealistic and unexpected drifting of any lead character (Murtasim) as in S1. And negative characters like Haya should be punished enough for their evil acts. We hope TB S2 will be about true love, commitment & justice!!"
While another wrote, "Tere bin 2 with yumhaj . No haya , no norran makhdoom. Some sensible writer who can write good love story. No prolong misunderstandings,no separation, no illogical FL demands, no ML aura being crushed .a story where mNm both fight together with villain to obtain their land back."
"I want TereBin 2 with both of them, one cannot be missing, Terebin means Yumna Wahaj," noted a third.
Another user commented, "You shouldn't have asked us this question because we have been begging you for Yumna and Wahaj since Terebin ended. Why do you keep asking us again and again? Please give us Terebin2, which is better written this time and has more scenes in the foreground."
Most of the fans were inclined towards Tere Bin, however this time they want a new storyline.
Tere Bin season 1 concluded on July 6, 2023.

For more Entertainment news, follow us on
Google News
and don't miss out on the latest updates!