Taylor Swift makes Travis Kelce feel special with grand gesture at first dinner date
Taylor Swift reportedly paid for the entire restaurant to dine with Travis Kelce in silence
Taylor Swift who has been romantically linked to NFL star Travis Kelce, recently treated an entire restaurant to a meal, clearing the way for herself and Kelce.
The story unfolded following Swift's attendance at a Kansas City Chiefs football game, where Kelce is a star player, against the Chicago Bears. 
As romance rumors continued to swirl, a TikTok video surfaced on the fan account 1989 Vinyl, narrated by a fan named Molly. 
In the video, Molly claimed her friend had witnessed Swift and Kelce at an undisclosed restaurant, where Swift spontaneously paid for everyone's meal and politely requested that they leave.
The video sparked a frenzy on social media, with fans applauding Swift's generosity and speculating about the memorable experience. 
Many joked about being part of a future "Taylor Swift emptied out the restaurant" reunion.

Molly refrained from revealing the restaurant's location, a gesture appreciated by Swift's admirers.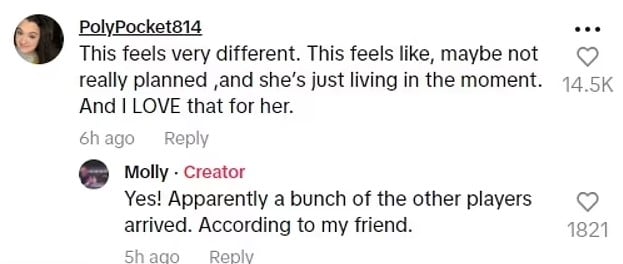 She also mentioned that other football players had joined the couple, adding intrigue to the evening.
This heartwarming incident comes amid ongoing speculation surrounding Swift's connection with Travis Kelce. 
The NFL star had previously expressed interest in Swift during one of her concerts in July. 
However, Swift's strict no-talking policy before and after her shows presented a challenge.
Kelce later hinted that the ball was in Swift's court regarding their budding romance, and their recent public appearances together have only fueled further speculation.

For more Entertainment news, follow us on
Google News
and don't miss out on the latest updates!