Kim Kardashian delivers harsh verbal blow to sister Kourtney in 'The Kardashians'
Kim and Kourtney Kardashian's tensions resurfaced in the debut episode of Season 4 of Hulu's 'The Kardashians'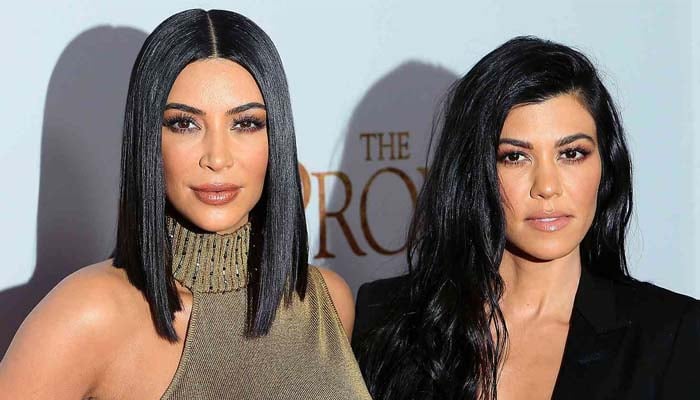 Kourtney Kardashian has recently made headlines with her candid revelation about where her true happiness lies, in the new episode of The Kardashian.

In a surprising statement, Kourtney shared that her "happiness comes" when she distances herself from her family, with a particular mention of her sister, Kim Kardashian.
The argument was rekindled during the premiere of the fourth season when both Kardashian siblings revisited the ongoing feud from the previous season.
Kim, 42, and Kourtney, 44, engaged in a heated exchange that ultimately pushed their conflict to a breaking point.
At the start of Thursday's episode, the well-known family geared up for a family trip to Cabo San Lucas, Mexico, for an enjoyable vacation.
However, Kourtney opted not to join them and Kim later acknowledged in a private interview that she and Kourtney had a tendency to resolve their conflicts at the moment, only to "get mad all over again" when watching edited episodes of the show because it stirred up numerous emotions.
Kourtney added, in another statement, "What's harder than living it is watching it back in the edit, which isn't a natural way of living. So my whole family is going on a trip to Cabo but three days earlier, before the trip, Kim and I have this heated phone call."
In their heated phone conversation, the sisters traded hurtful insults, with one of the Kardashian siblings expressing a strong dislike for the family and claiming the other had undergone a significant personality change.
Kourtney answered, "I don't need you guys anymore. I don't need to be a part of it."
Kim continued by informing Kourtney that both their friends and family had been discussing her. She even referred to a group chat specifically designated as "Not Kourtney."
The mother-of-four stated her intention was to repair their relationship, but Kourtney perceived the situation differently.
"It's about you. You are a narcissist. It is all about you. Anything you do is about you and how it looks to the world about you…" the Poosh founder said.
The SKIMS founder answered, "We all are concerned. We all think that you're just really not happy."
Kourtney had a powerful response, she stated, "I have a happy life, and the happiness comes when I get the (expletive) away from you guys. Specifically you," to Kim.
The wife of Travis Barker clarified that she has more important things to do than engage in private conversations about others.
At that moment, Kim decided to be more direct and critical.
"Well, your kids have even come to me with problems that they have and how you are, so…" Kim said.
Kourtney inquired if her previous statement had been "beneficial" to their discussion and she became emotional and informed Kim during their phone call, "It's like you're just a f**king witch, and I f**king hate you."
Kim and Kourtney joined together for a joint confession following their intense phone call argument. During this discussion, Kourtney acknowledged, "I think it's just that after seeing all the edits, a lot of thoughts came up. It felt like, in the call, Kim was using any available means to hurt me... We both reached a point that we're not proud of."
Furthermore, Kourtney expressed how hurtful the phone call fight with Kim had been, mentioning that it reminded her of a long-standing family trait where they say hurtful things to one another, something she's actively working on changing in therapy. She questioned why her family would treat her in such a way.
The fresh episode of Season 4 of The Kardashians is released on Hulu every Thursday.

For more Entertainment news, follow us on
Google News
and don't miss out on the latest updates!