Sajal Ali bears striking resemblance to her mother, according to veteran Indian star Shabana Azmi
Sajal Ali posted a throwback snapshot with late mother on Instagram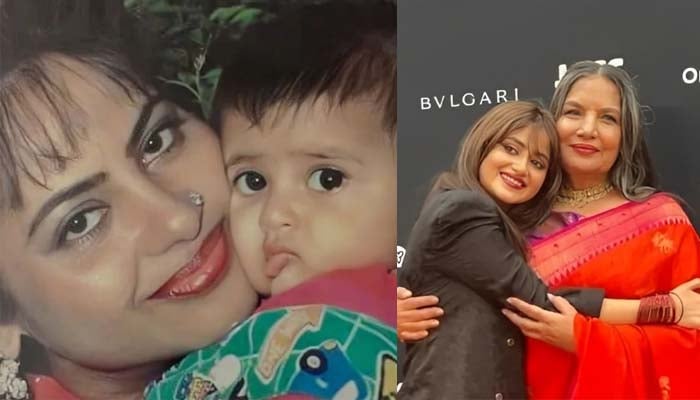 Sajal Ali received a compliment on a throwback photo of herself with her mother during a wholesome interaction with Indian actress Shabana Azmi.
Sajal and Shabana have worked together in a romantic comedy film What's Love Got to Do with It?. 
On Friday, Sajal posted a throwback snapshot with her late mother on Instagram and received plenty of compliments on the striking resemblance between the mother-daughter duo.
The shared picture featured the Sinf-e-Aahan actress' childhood picture with her mother.
Shabana Azmi wrote under the post, "You look so much like her," the renowned actress replied with, "@azmishabana18 shukarrr she was way prettier though. Also I miss you."
She captioned the throwback picture, "My all time fav picture with my favourite person."
Sajal's industry friends and fans started flooding the comment after she dropped the heartwarming photo.
Pakistani supermodel Rabia Butt added, "Forever grateful to your mother for raising a precious gem like you. May Allah bless her with the highest ranks in Jannah. @sajalaly."
"I still remember her smiling face ... and the love and bond you shared with her.. Allah unko janaat mein khaas jagah ata farmaye.... She must be smiling down to you & is so so proud of you @sajalaly," a comment read.
Another fan noted, "In her eyes i see you, @sabooraly and aly, all of you kids. I miss her. Pray for highest ranks in jannah."
Third one commented, "And my fav to because your favourite person is the best person. I always pray for her may Allah give her big place in jannah."
Sajal Ali's mother passed away in March 2017. 

For more Entertainment news, follow us on
Google News
and don't miss out on the latest updates!