Jennifer Lopez and Ben Affleck fail at putting on united front as car argument raises concerns
Jennifer Lopez and Ben Affleck's car argument was spotted after he was seen with his ex-wife Jennifer Garner
Jennifer Lopez and Ben Affleck – one of Hollywood's most beloved couples – have hinted at cracks in their marriage as they appeared to discuss some things aggressively while in the car in Los Angeles.
Ben was spotted with Lopez, driving around L.A this week and according to the pictures obtained by Page Six, the two were involved in the middle of a heated argument.
The outlet reported that the Gone Girl actor seemed impassioned as he spoke with the Marry Me actress, listening intently but also appearing visibly perturbed.
At another point, J. Lo was seen giving a stern look in Ben Affleck's direction as their conversation continued.
It is important to mention that despite the apparent heated argument in the photos, a source close to the couple revealed that there was "nothing heated about their discussion."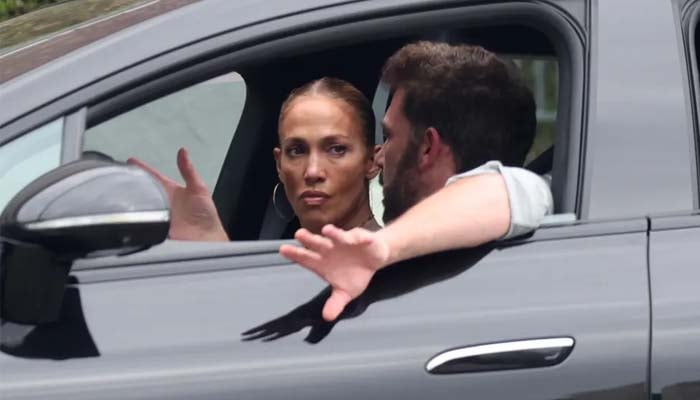 Meanwhile, some of the pair's fans noted that the recent episode of the brawl came after Ben Affleck was recently spotted in an intimate situation with his ex-wife Jennifer Garner.
Ben Affleck and Jennifer Garner's intimate moment:
Ben Affleck and Jennifer Garner reportedly shared an intimate moment in a car together two weeks ago. The photos showed the two actors hugging and getting cozy with one another inside the car.
Ben Affleck and Jennifer Lopez wedding anniversary:
Jennifer Lopez and Ben Affleck celebrated their one-year wedding anniversary in August. The Shotgun Wedding diva took to Instagram to shared unseen photos from their beautiful wedding ceremony, accompanied by a sweet message to her husband.
Lopez penned, "One year ago today … Dear Ben, Sitting here alone Looking at my ring ring Feeling overwhelmed It makes me wanna sing sing How did we end up here Without a rewind Oh my This is my life… Jennifer #DearBenPartII #ThisIsMeNow @johnrussophoto."

For more Entertainment news, follow us on
Google News
and don't miss out on the latest updates!