Elon Musk, Rishi Sunak get candid about provoking threats of AI and robots
Elon Musk and Rishi Sunak differed on AI hazards and killer robot mechanisms in their recent discussion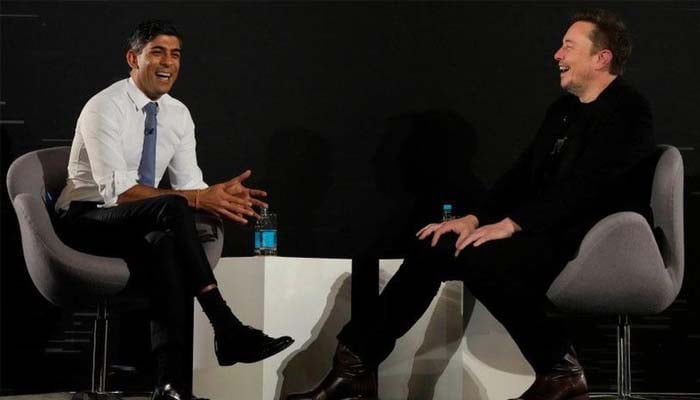 Elon Musk, the CEO of SpaceX and British Prime Minister, Rishi Sunak shared their candid thoughts on Artificial Intelligence (AI) as a threat to mankind's jobs.
The technology giant also disclosed fresh intentions to encourage China's participation in the matter of artificial intelligence safety. 
He expressed the desire to witness Beijing's alignment with the United Kingdom and the United States on this topic while speaking in London on Thursday, in the presence of British Prime Minister Rishi Sunak.
Both did the discussion in a one-on-one chat style, where they expressed their opinion of AI's hazards in future.
Musk stated, "AI will be a force for good most likely," adding, "But the probability of it going bad is not zero per cent."
The discussion was subsequently shared for live broadcast on Musk's profile on X(former  Twitter)
Sunak expressed his sense of honour and enthusiasm in hosting Musk and took the opportunity to subtly promote investments when the founder of Tesla and SpaceX emphasized the necessity of significant rewards for startups willing to undertake risks in the industry.
"We very much have a tax system that supports that," Sunak said.
Further, they both concurred about the potential necessity of physical emergency stop mechanisms to prevent robots from dangerously going beyond control, drawing inspiration from The Terminator movie series and other science fiction films.
He added, "All these movies with the same plot fundamentally all end with the person turning it off."
Sunak mentioned that the significance of having physical off switches had been a topic of conversation during the summit earlier in the day,
In a conversation with Sunak, Musk expressed his belief that AI represented "the most transformative power in human history."
The business magnate pondered that this technology had the potential to accomplish a wide range of tasks and could ultimately render current employment models obsolete.
"I don't know if that makes people comfortable or uncomfortable," he said.
Musk also highlighted, "It's both good and bad. One of the challenges in the future will be, how do we find meaning in life if you have a magic genie that can do everything you want?"

For more Entertainment news, follow us on
Google News
and don't miss out on the latest updates!