Kate Middleton steps out all smiles after King Charles birthday party
Kate Middleton delivered a landmark speech during the Shaping Us National Symposium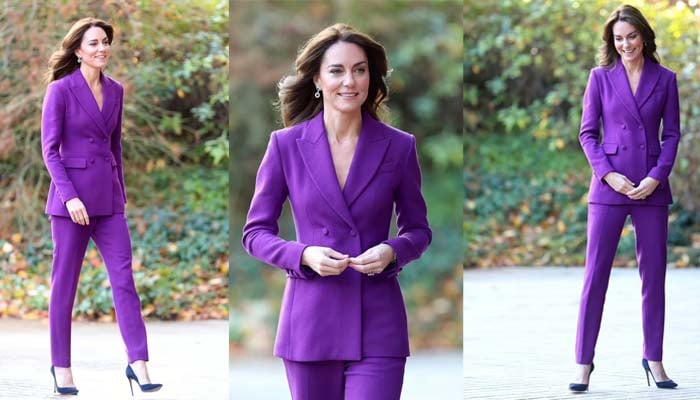 Kate Middleton has recently captured attention as she graced a significant occasion in a vibrant purple suit, delivering the "biggest speech of her life" during the Shaping Us National Symposium at The Design Museum in London.
Dressed in an eye-catching coordinated purple suit designed by Emilia Wickstead, the Princess of Wales paired it with black high heels and exuded confidence from the moment she stepped into the venue.
During her address, Kate presented a vision for worldwide transformation, outlining a blueprint for an international structure to instill essential social and emotional life skills in children as they prepare for adulthood.
Kate Middleton speech:
She opened her by highlighting the importance of childhood, "People often ask me why I focus my time on early childhood. The answer is because I care deeply about making a positive difference, in helping the most vulnerable and supporting those who are most in need.
"This is not just about the youngest children in our society, who are, by their very nature, vulnerable…it is also about the many young people and adults who are suffering," Kate said.
She further stated, "We must acknowledge and address the root cause of some of today's toughest social challenges and work together to find better answers."
The mother of three concluded her speech, "It is therefore time we understood that building a healthier world means nurturing the foundations that support our children – everything from the systems that govern early care through to our attitudes to those raising the next generation, and the support they receive.
"Because if we can create a society which sees the child within every adult – and the adult within every child – we will finally start to change it for the better."
Kate inaugurated the National Symposium, an occasion organized by the Princess of Wales and The Royal Foundation Centre.

For more Entertainment news, follow us on
Google News
and don't miss out on the latest updates!