'The Crown' Season 6 'plummets into abyss' due to its 'Diana-obsession'
Netflix series 'The Crown' hit the screen on November 16, 2023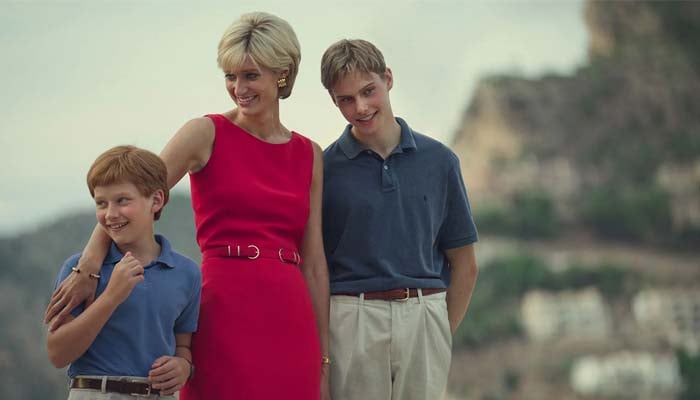 Netflix show, The Crown, is generating buzz as its sixth and ultimate season is released on the streaming platform today, November 16, 2023.
This latest instalment of the regal drama explores the happenings of the late 1990s, delving into Princess Diana's connection with Dodi Fayed and the circumstances surrounding her passing.
It also depicted the events following Diana's demise, during which the 'ghost of Diana' manifests to Prince Charles and the Queen.
As per the review of The Guardian, "Diana-obsessed series is the very definition of bad writing".
Lucy Mangan, the British journalist expressed his opinion on the most-hyped scene, "Beyond all its formal failures, late-period Crown is also impossibly hamstrung by being set well within living memory. Even if there were anything to engage with, the memories and consequent questions that crowd into the viewer's mind at every stage would make it impossible."
She further added, "It started teetering in season three, lost its balance entirely over the next two and is now plummeting into the abyss."
While praising the performance of the cast, she continued, "despite the uniformly brilliant performances from the entire cast".
Even though The Times gave it a four-star review, Carol Midgley remarks that Diana's portrayal "wasn't the show's finest hour" and was "peculiarly self-defeating in an otherwise powerful and moving opening four-episode suite".
She also glorified Elizabeth Debicki's performance as Diana, dubbed as "outstanding".
Midgley said, "The empathy with which she portrays the last eight weeks of Diana's life and the likeness to Diana is extraordinary, that flirty cocking of the head, a slightly lost, lonely soul who ends up in various swimsuits in the gaudy Hello! mag environs of Mohamed Al Fayed's yacht."
The Crown season 6 episodes 1-4 is released on Netflix on November 16, 2023 Part two of season 6 will be released on December 14, 2023.


For more Entertainment news, follow us on
Google News
and don't miss out on the latest updates!