'The Crown' star reveals dynamics of Princess Diana, Dodi Fayed's relationship before their death
In the Netflix series, 'The Crown' Khalid Abdalla portrayed Dodi Fayed with Elizabeth Debicki as the Princess Diana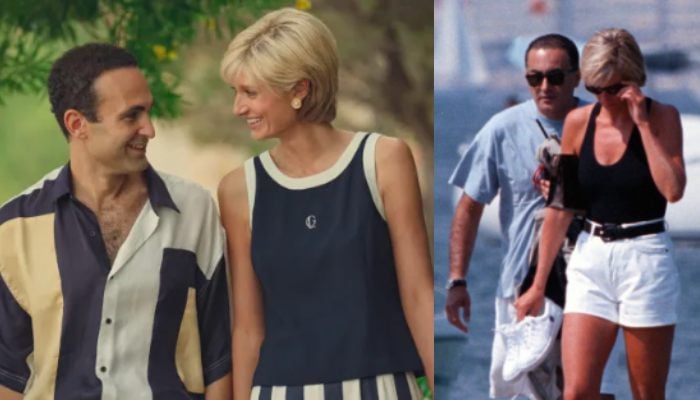 The Crown star Khalid Abdalla, who played the role of Dodi Fayed has revealed the dynamics of Princess Diana and her lover's relationship dynamics before the tragic and fatal car crash
As season 6 of The Crown returned on Netflix, presenting the initial four episodes that showcase the blossoming love affair between Princess Diana and Dodi in the summer leading up to their tragic car accident in Paris on August 31, 1997.
Abdalla took the role of Dodi alongside Elizabeth Debicki, portraying the Princess of Wales of at that time.
In an exclusive statement to PEOPLE, he expressed that being part of the acclaimed Netflix series' concluding season was "an extraordinary honour," emphasizing, "It has been one of the great honours of my life."
The 42-year-old star added on portraying the story, "especially as this is a moment that is so dear and important to people," is special.
Abdalla continued, "To have finally got there and feel like we've honoured it, feels immense," adding, with a hope that "people see it, they feel like we have approached and handled it with the dignity and respect that it deserves."
Khalid Abdalla on Princess Diana and Dodi Fayed's relationship:
Additionally, Abdalla offered his perspectives on the rapid evolution of the couple's relationship and examined the question of whether the princess was developing romantic feelings for the Egyptian film producer, a theme explored in the show during Dodi's proposal to Diana.
"Right from the beginning, in season 5, I had to ask myself a question about whether I thought Diana and Dodi were falling in love or not. The first answer to that question came in the CCTV footage," according to Abdalla, emerged from the CCTV footage—a seven-minute video capturing the couple during their last night together at the Ritz hotel in Paris.
"They are very tenderly holding each other's hands behind their backs and nuzzled in with each other. That tenderness of how they caress each other has in it something of the nature of their falling in love," he explained.
Abdallah praised Diana's indiscriminate behaviour and said, "That, I think, is part of what she saw in Dodi for that moment, the six weeks that they were together, which has shined through all the way now."
He noted that he's "not interested in the question of whether they would've been together or not, forever, a question that continues to linger in the minds of numerous admirers of Diana even today.
On the contrary, "I'm interested in the question of the complexity of how we all fall in love," adding that "exploring that [was] very important to me."
Abdalla said, comprehending "the complexity of his relationship with his father" explained, "this will resonate for many people if they have complicated relationships with their parents, where it's hard but there's a lot of love."
He stated, "So to have that trio of dynamics play out and sing harmoniously was a big part of the challenge."

For more Entertainment news, follow us on
Google News
and don't miss out on the latest updates!