Justin Bieber drops 'some cute' photodump featuring wife Hailey Bieber and pals
Justin Bieber offered a glimpse into exciting moments with wife Hailey Bieber and friends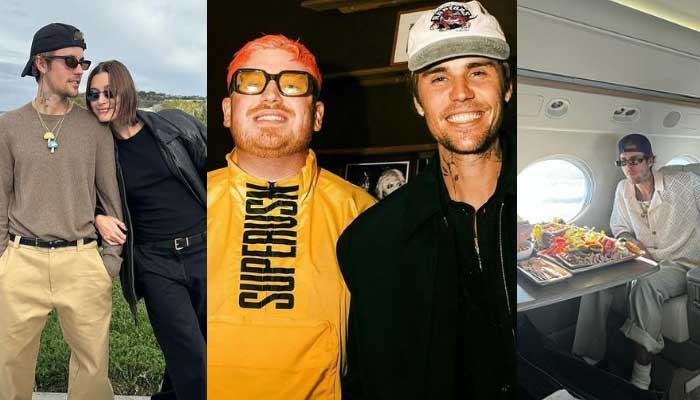 Justin Bieber delighted fans with a cute photo dump from his latest outings with wife Hailey Bieber and friends.
Taking to his Instagram account on Sunday, the Sorry singer shared a carousel of images featuring the exciting moments from the recent happenings of his life.
The first photo featured the couple standing beside each other against the backdrop of a scenic location, Hailey could be seen resting her head on Justin's shoulder, with their arms tangled.
Justin rocked skin colored pants with grey sweater, while the Rhode beauty founder looked dapper in a full black outfit, based on a black t-shirt, which she paired with matching baggy style pants.
She added value to her stylish fit with a black leather jacket and matching sunglasses.
Another photo from the series was a close up of the Baby hit maker in white tank top, in the candid click the Justin could be seen giving a cheeky smile with closed eyes.
The carousel also included a short video clip of the couple taking a stroll on a bicycle, with Hailey pedaling it.
A luxurious click in the series of images also featured Justin sitting in what looked like a private compartment of an airplane, relishing on a delicious meal with his friend.
Last photo showcased the 28-year-old pop icon posing for a group photo with his super model wife and friends.
Soon after the carousel was shared by Justin Bieber, fans swamped the comment section with love and appreciation for the singer.
One fan wrote, "we love you Justin, we are super happy.
While another noted, "that big smile I am in love."
"They are the post beautiful couple there is…and only my opinion matters," wrote another fan.

For more Entertainment news, follow us on
Google News
and don't miss out on the latest updates!