Dua Lipa kicks off her Tokyo trip with a traditional Japanese tea ceremony
Dua Lipa embarked on her Tokyo trip with an invitation to a traditional tea ceremony of Japan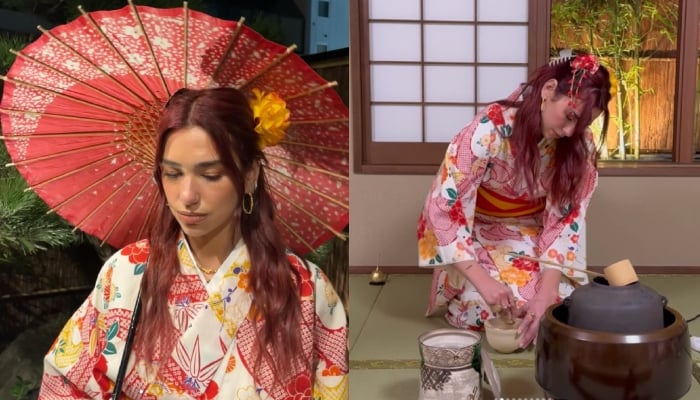 Dua Lipa kicked off her Tokyo trip  with the most enchanting invitation to a truly mesmerizing traditional tea ceremony.
Taking to her Instagram account on Tuesday, the New Rules singer shared a series of photos  featuring the sweet moments she made at a  traditional tea ceremony.
The first photo in the carousel featured  the Levitating vocalist adorned in  fusion of white, red and yellow kimono dress, striking a pose while holding a Japanese umbrella in her hand.

She then added a video of her making the traditional Japanese tea. Lipa also posted her mirror selfie, donning a yellow flower on her hair.
Other pictures also depicted the Cold Heart singer's love for nature, in which she was   seen in Japanese silver leaf stock area and  Ninomaru Garden, located in Chiyoda city of Japan.
The series also shared a captivating video of a woman, unveiling the artistry of tying a kimono belt on a girl.
Dua Lipa newly released song  'Houdini':
On the professional front, Dua Lipa released her new song Houdini on November  9, 2023, which is considered to be the lead single  from her upcoming third studio album.
The song Houdini worked like a charm, appearing on various Billboard charts on November 25, including her first No. 1 on the Hot Dance/Electronic Songs chart.
Houdini received 23.8 million airplay audience impressions, 12.4 million official streams, and 7,000 sold downloads in the United States from November 10 to November 16, 2023.
 Lipa achieved her second No. 1 on Hot Dance/Electronic Songs with this track, which serves as a prelude for her third studio album, due in 2024. 

For more Entertainment news, follow us on
Google News
and don't miss out on the latest updates!