Paracus: A must-visit tourist destination in Peru
Paracus is one of the most beautiful and interesting spots is virtually ignored by tourists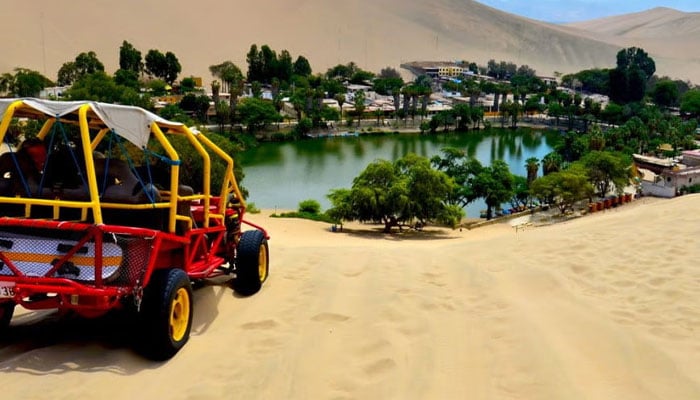 While tens of thousands of travelers descend on Peru annually to visit well-known attractions such as Machu Picchu, the Sacred Valley and Lima, one of the country's most beautiful and interesting spots is virtually ignored by tourists.
Paracas, a small coastal town of less than 5,000 residents, lies 150 miles from Lima and is known regionally as the "Hamptons of Peru." Every weekend, hundreds of Limeños, lured by the promise of sun, sea and surf, travel to the town to indulge in a beachside getaway. The town, which is a curious mix of high-end hotels, backpacker hostels, luxury homes and ramshackle storefronts, is one of the county's most beguiling and untapped destinations.
Brimming with wildlife, stark desert landscapes, gorgeous beaches and captivating history, Paracas is a worthy addition to anyone's Peru itinerary.

Paracas National Reserve
There's no better place to experience this dazzling landscape than at Paracas National Reserve. Spanning 335,000 hectares, a third of the protected area is desert while the remaining two-thirds is surrounding ocean. Depending on what time of year you visit, expect to see condors, flamingos, rare Humboldt penguins, pelicans, desert foxes, humpback whales, dolphins, sea lions (go to Mirador de los Lobos for the best views) and more. Playa Roja, with its unusual red sand, is the most striking beach on the reserve; Playa de la Mina's sedate waters are ideal for swimming. There's a vast area to cover and the best way to maximize your time is with a bike, ATV or bus tour — tour operators along Paracas' boardwalk and main street, El Chaco, have increased in recent years.
Islas Ballestas
Forming part of the Paracas National Reserve, Islas Ballestas, teaming with marine and bird life, is a worthy stop if you find yourself in Paracas proper. Half- and full-day boat tours (which, incidentally are also the only way to reach the islands) give visitors the opportunity to spot sea lions, whales, penguins, dolphins and hundreds of different species of seabirds.
4x4 desert ride/sandboarding
Seeing the desert is one thing, really experiencing it is another. Paracas means "rainstorm of sand" in Quechua (the language spoken by indigenous Peruvians, especially during the Incan Empire) and navigating the massive waves of sand via 4x4 with a professional driver gives you a new appreciation for the majesty and awesome force of this barren, sometimes hostile, landscape. Plus, it's just plain fun.
Nazca Lines
While not located in Paracas, seeing these enigmatic land features is most often done as a day trip from Paracas. The Nazca Lines are about 3 and a half hours away by bus or visitors can book quicker aerial tours. There are over 300 figures (including fascinating images of a hummingbird, a monkey, a giant spider and what appears to be an astronaut) scattered over 175 square miles of arid desert in the Nazca Valley. The Lines, which are a UNESCO World Heritage site, are said to be over 2,000 years old.
WHAT'S FOR DINNER
Ballestas Restaurant
If you're looking for a fine-dining experience that highlights the best of Peruvian-Mediterranean fusion cuisine, head to Hotel Paracas' chic Ballestas Restaurant.
Chalana Restaurant
One of the restaurants in the Hotel Paracas, deceptively casual-looking eatery Chalana is set on a private dock. It is hands-down the best place to go for fresh, creative seafood dishes.
Inti-Mar
Out of town, all the way across Paracas Bay, Inti-Mar is worth the journey for its fresh scallop dishes. No wonder, given that Inti-Mar is also a working scallop farm.

For more Entertainment news, follow us on
Google News
and don't miss out on the latest updates!