Review: 'Haunted Mansion' fails to launch a successful movie franchise for Disney
The 'Haunted Mansion' cast includes LaKeith Stanfield, Rosario Dawson, Owen Wilson and Tiffany Haddish
After much anticipation, the family-friendly horror-comedy, Haunted Mansion, released on July 28, 2023.
With the release of the first Pirates of the Caribbean in 2003, Disney demonstrated their ability to turn one of their theme-park rides into a blockbuster film. 
The Haunted Mansion, a different Disneyland attraction, served as the inspiration for their subsequent movie starring Eddie Murphy spooked up some fair businesses but failed to launch a successful movie franchise.
Twenty years later, Disney approved this Haunted Mansion, which is neither a sequel nor a remake but combines the same elements, despite the alarm bells raised by high-profile attractions like Tomorrowland and Jungle Cruise. 
The show has a talented ensemble, CGI phantasms everywhere, open-mouthed humour, Easter eggs for theme-park aficionados, an overly convoluted supernatural mystery, and a sense that it is rushing to finish.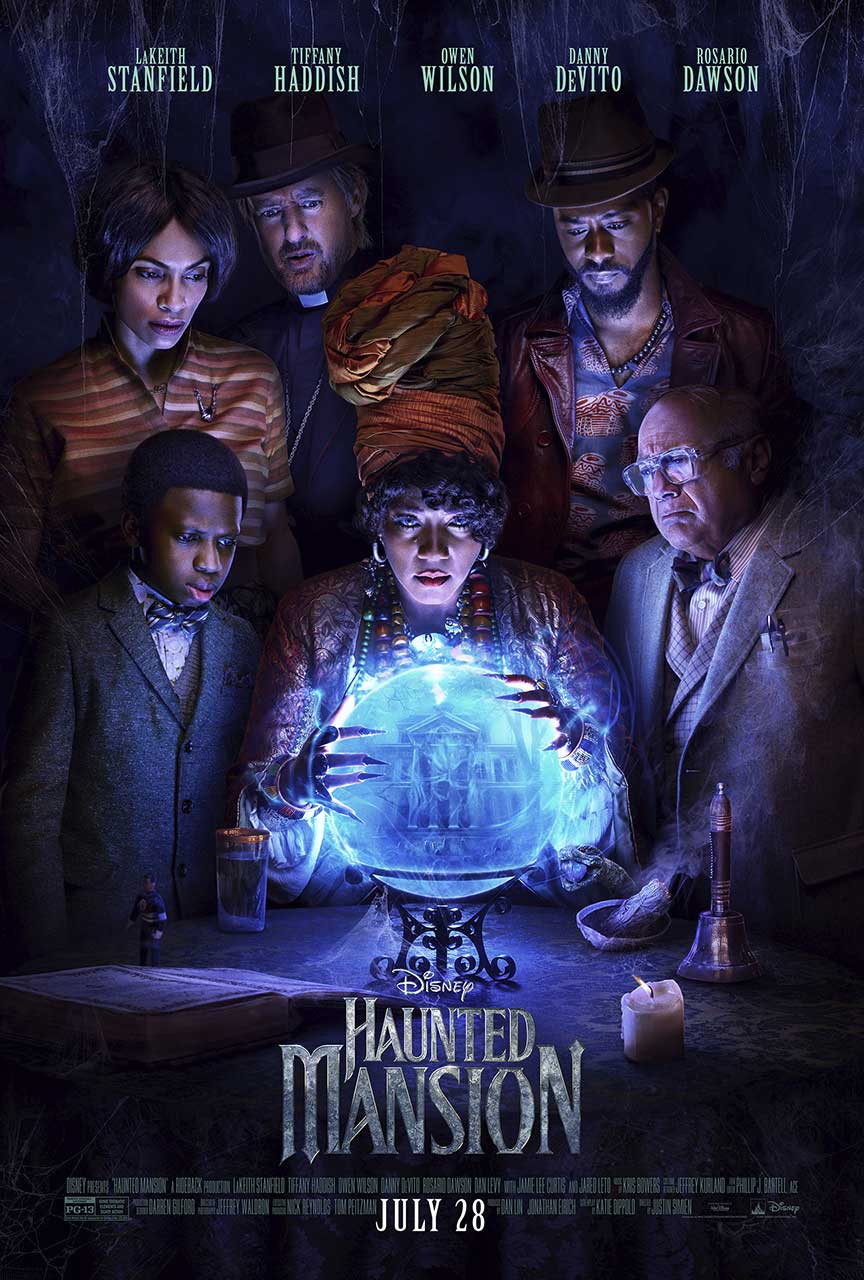 The type of watchable content that fills out streaming services is Haunted Mansion, but it is less current than Christopher Landon's most recent Netflix release, We Have A Ghost, and on Disney+ it competes with titles from its extensive back catalogue like Blackbeard's Ghost or The Gnome-Mobile. 
Director Justin Simien is well known for his intelligent independent comedy Dear White People and his sharp hip-hop fable about vampire hair extensions, Bad Hair. He's a wise choice for a big film with a predominately Black cast, but it's too bad he doesn't have more meaty material to work with. 
Katie Dippold (of The Heat and the 2016 Ghostbusters reboot) assembles a script as if deluged with notes about the plot beats which had to be included and the trick effects from the Disneyland original which couldn't be left out.
Between images of Danny DeVito stalking haunting hallways in his underwear or Tiffany Haddish screaming as a haunted chair tips her into dirt are well-acted but clichéd speeches about mourning and "moving on." 
LaKeith Stanfield portrays a tormented hero with a low-key, appealing intensity that is nice, but less on point than Haddish's spieling as an overconfident medium and Owen Wilson's customary spacey act (he's a failed exorcist).
Rosario Dawson takes over Eddie Murphy's role as the owner of the haunted mansion, but she is sadly underutilised in a typical Mom character. Jamie Lee Curtis' performance as Madame Leota falls short of Jennifer Tilly's interpretation of the part, which was the most memorable aspect of the 2003 movie. 
Jamie Lee Curtis gets bonus points for one stunning silent-movie star dress, but she spends most of the movie trapped in a crystal ball as a disembodied head. Jared Leto gets a CGI makeover for his Morbius cheekbones so he can play a head in a hatbox bad guy. 
Through the use of CGI, the funhouse illusion of the corridors morphing into impossibly complex geometries is spun out, but it doesn't eliminate the impression that we've seen this before and aren't as alarmed this time.
The Haunted Mansion resembles a children's birthday party replica of The Legend Of Hell House from 1973, suffers from not being all that hilarious or terrifying. A cast you want to spend time with is its saviour.

For more Entertainment news, follow us on
Google News
and don't miss out on the latest updates!