Review: 'Blue Beetle' brings back forgotten dynamics and lively comic charm to DC superhero genre
'Blue Beetle' stars Xolo Maridueña as Jaime Reyes and Bruna Marquezine as Jenny Kord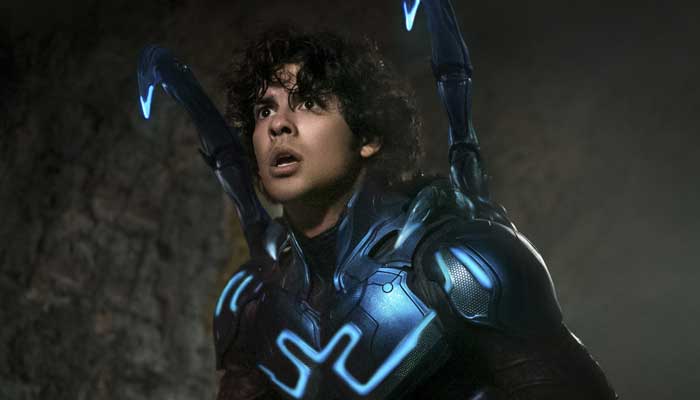 Blue Beetle revived the love for DC movies following its theatrical release on August 17, 2023.  
However, there is a feeling that the film is appealing to a crowd that may have already left the venue as James Gunn and Peter Safran continue to re-imagine the superhero genre.

Having all that, perhaps there's no need to worry too much about this newcomer to the blockbuster.
First off, unlike the previous-plot-entangled The Flash, the movie feels suitably and happily unassociated with the specific events and adventures of the DCEU, with the exception of a few casual nods to Superman and Batman. 
As a result, Blue Beetle stands on its own six legs. Second, it has a lot of charm and humour despite being occasionally so formulaic that it almost makes you roll your eyes. And everyone agrees that having a wonderful personality helps a lot.
Dealing with the 'formulaic' part first. Blue Beetle is fundamentally an origin story. A smart Mexican-American boy named Jaime Reyes (Cobra Kai's unnerving Xolo Mariduea) is thrust into a position of great power by a flesh-burrowing bug that excretes a symbiotic alien-AI supersuit shortly after reuniting with his amiable parents in the fictional Palmera City. 
Imagine Venom and Iron Man combined in Sonic The Hedgehog blue, with Becky G's voice-in-the-head evoking F.R.I.D.A.Y.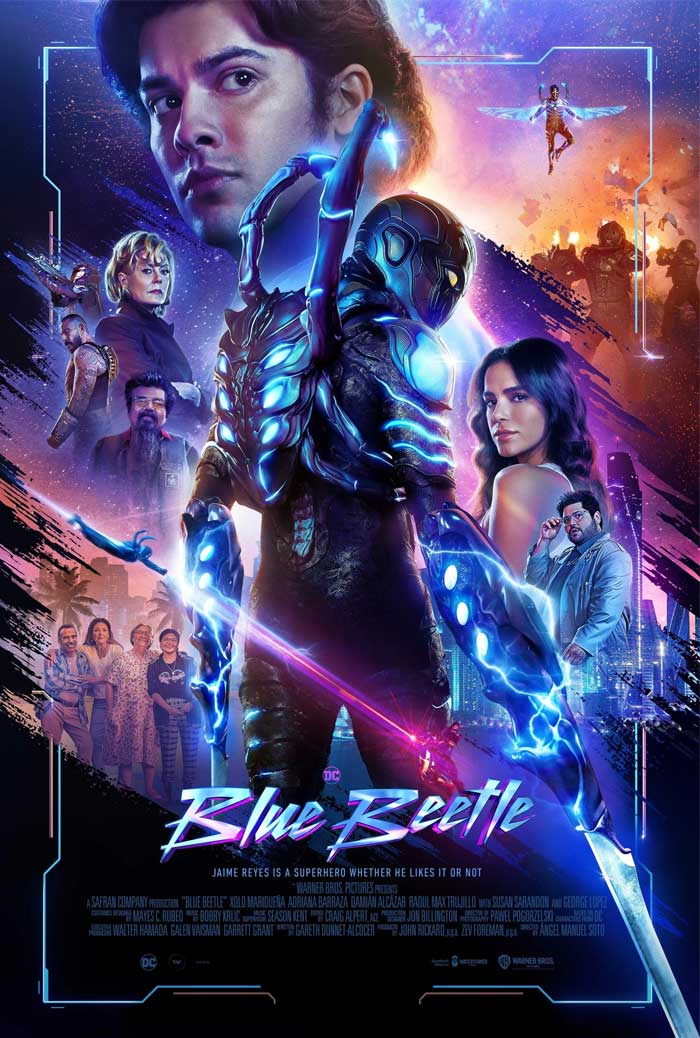 After a few overacted scenes in which Jaime adjusts to his amazing new abilities – flying, invulnerability, and the capacity to transform his hands into any kind of weapon he can imagine – he faces up against the villainous corporate leader Victoria Kord (a cheerfully hamming Susan Sarandon). 
"Carapax, ready the claw!" she yells in an evil-boss voice, and she wants the technology to create many evil variations of our budding superhero. She actually already has one in the form of the aforementioned Carapax (Raoul Max Trujillo), a cyborg sidekick who favours Sith red in contrast to Reyes' Jedi blue; a helpful chromatic distinction during the busy climactic clashes, where big-budget pixels predictably collide in a visually uninspiring manner.
In terms of broad plot and action, not much about this feels new. If your taste buds are oriented that way, this is exactly the kind of microwave-reheated super-fare that will work nicely. 
However, Blue Beetle makes a wise choice in that it takes Jaime's family with it, saving its glossy cerulean ass in the process. And by "family," we don't just mean a group of thugs and ex-enemies you invite to a cookout every weekend; we mean actual same-DNA relatives. 
Families are frequently neglected, victimised, or the target of vengeance in these heroes' quests, with the chosen son or daughter taking front stage. However, without giving anything away, the Reyes family as a whole, rather than simply Jaime alone, can claim the title of Blue Beetle.
There is some victimisation and retaliation taking place, but Jaime is supported throughout by his parents, sister, Nana, and – most amusingly – George Lopez as his extremely mule-eyed, authority-skeptical Uncle Rudy. The majority of the time, they offer sidekick-comedy relief (Adriana Barraza's Nana revealing her revolutionary history and carrying a sort of disco-powered mini-gun is a joy) and bring some humorous shade to offset Jaime's moralistic rigidity. 
Most importantly, they impart the movie with its utterly uncynical soul. The warm and endearing performances of Lopez, Belissa Escobedo (as slacker younger sister Milagro), and co. manage to stave off the deadly tang of cheesiness. Although Jaime's and his blue-collar wise dad's (Damián Alcázar) one too many heart-to-hearts does come close.
The continued prominence of the Reyes family also serves to highlight another admirably unique aspect of Blue Beetle: in addition to having the first Hispanic-American lead superhero in cinema history, almost the entire cast of the movie is Hispanic-American, and the dialogue in Spanglish includes references to Latino culture (we had to look up Mara la del Barrio). 
All of these things combine to give the movie a strong enough cinematic personality that, in DC's brave new universe, it just might get a sequel.

For more Entertainment news, follow us on
Google News
and don't miss out on the latest updates!