Review: 'Oppenheimer' makes powerful execution of an important topic on big screen
Christopher Nolan's 'Oppenheimer' stars Cillian Murphy, Emily Blunt, Matt Damon, Florence Pugh and Robert Downey Jr.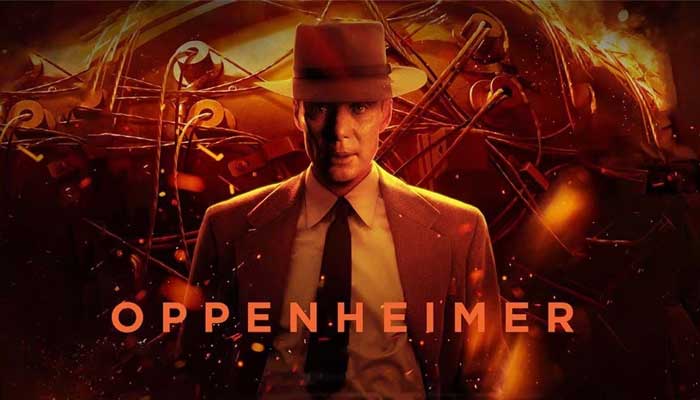 The Christopher Nolan's historical epic Oppenheimer released in cinemas worldwide on July 21, 2023 and since has been dubbed as one of his career's masterpieces.
The film stars the Peaky Blinders famed actor Cillian Murphy playing American theoretical physicist J. Robert Oppenheimer, who is also known as the 'father of the atomic bomb.'
Oppenheimer is a challenging film. It would be an understatement to suggest that its subject matter and theme are naturally depressing. It doesn't hold your hand and throws you into a very specific, congested world; there are also no subtitles that indicate the time or place.
A character once said that the majority of the three-hour film takes place in "shabby little rooms far from the limelight" and is tightly packed with information-rich dialogue. 
The movie's plot unfolds over two alternating lines, one labelled "Fission" in vibrant colour and the other "Fusion" in high-contrast black and white, and it jumps between their rhythms and revelations like an eager channel-hopper. Of course, it is a Nolan production.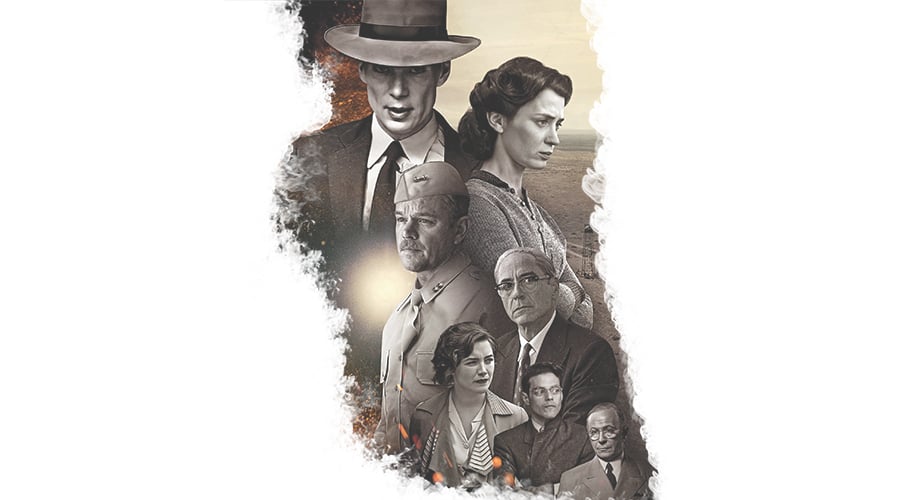 Oppenheimer, however, seems fresh from the writer-director despite bearing many of Nolan's trademarks (anti-chronological, shot with IMAX cameras, avoids CGI, and Cillian Murphy as well).
The film narrates the story of a man in a hat racing the Nazis for control of an existentially potent weapon, similar to the plot of Nolan's favourite Spielberg film, Raiders Of The Lost Ark, but its release and impact feel more like Nolan's Schindler's List moment: a move into deadly serious, portentously resonant, adult material.
With one important exception: Compared to Oskar Schindler, this terrible historical figure is travelling down a completely different path. Even the complete opposite trajectory, one would say.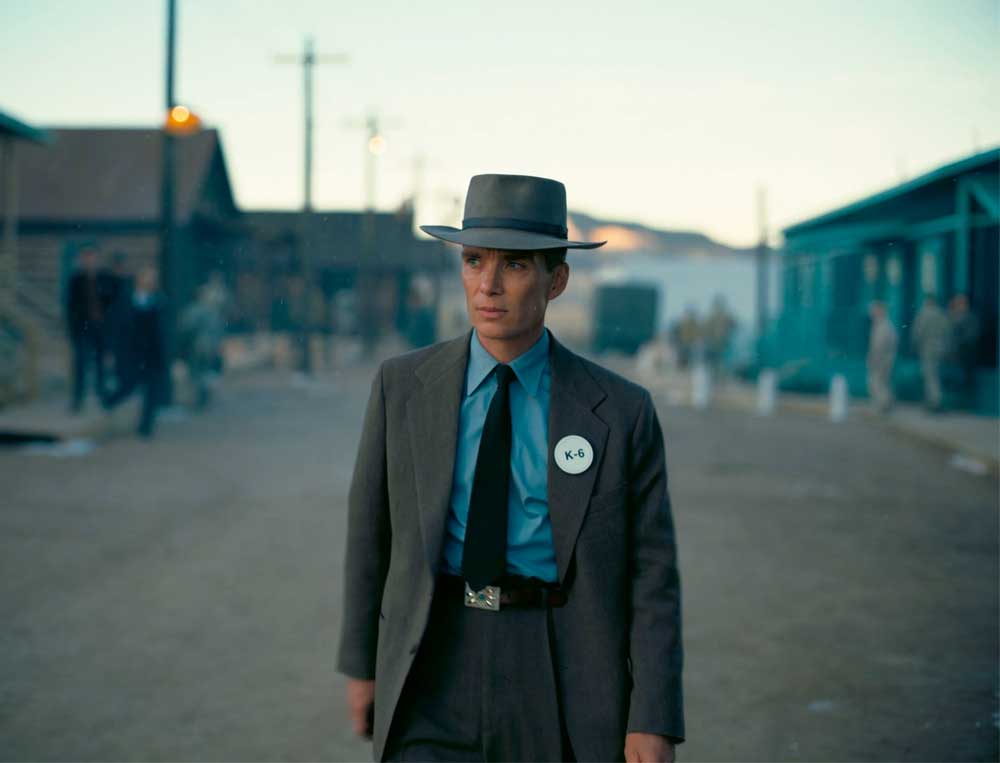 The film is based on the biography of the theoretical physicist who "fathered" the atomic bomb by Kai Bird and Martin J. Sherwin, American Prometheus, served as the inspiration for the character Oppenheimer. 

However, it's not a biopic. J. Robert's early years at school, which were very troublesome, are not discussed at all. Instead, the story swiftly transitions from his inclusion of quantum theory in US curriculum to his appointment as the Manhattan Project's director (by take-no-prisoners Lieutenant General Leslie Groves, played by Matt Damon with affable appeal). It's interesting to note that Nolan did spend some time exploring Oppenheimer's sexual relationships, giving Florence Pugh the opportunity to beautifully dominate her few scenes as communist activist Jean Tatlock, the physicist's first love.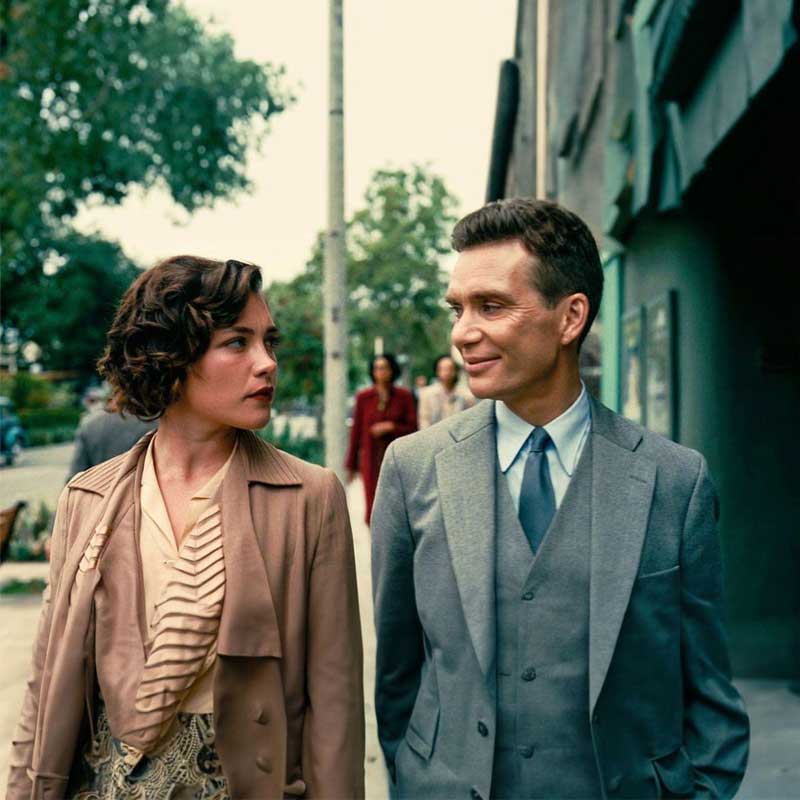 The inebriated but witty Kitty Oppenheimer, who provides us one of the movie's most thrilling confrontations in an intense verbal war with bullheaded lawyer Roger Robb (Jason Clarke), Emily Blunt, thankfully breaks out of the supportive/suffering wife cliche. It's hardly an exaggeration to state that Oppenheimer has Nolan's most outstanding cast to yet given the breadth of the dramatis personae.
Robert Downey Jr. leads the "Fusion" strand as the arrogant US Atomic Energy Commissioner Lewis Strauss, playing admirably against character. His attempt to become Secretary of Commerce in Eisenhower's cabinet becomes intriguingly more relevant as the movie goes on.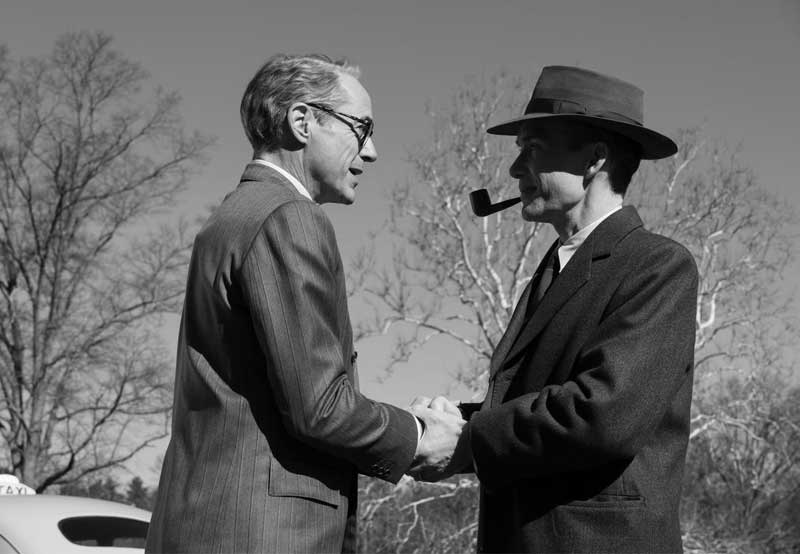 The supporting cast is unmatched, featuring Benny Safdie as Edward Teller – the inspiration for Dr. Strangelove – Kenneth Branagh as Oppenheimer's Danish mentor Niels Bohr, Josh Hartnett as his close friend Ernest Lawrence, and occasionally even the smallest roles for Olivia Thirlby, Rami Malek, Jack Quaid, Macon Blair, Casey Affleck, David Krumholtz, and Alden Ehrenreich. Not to mention Gary Oldman's acidic cameo as President Truman, who famously dismissed Oppenheimer as "a cry-baby scientist".
The captivating Murphy as Oppenheimer is at the heart of the throbbing movie. Given the weighty importance of the film, you might have expected him to put all of his skills into this performance, and that is unquestionably clear from every moment he is on screen – frequently with Hoyte Van Hoytema's IMAX lens trained directly and unflinchingly on his face, as he conjures the conflicting emotions that rage beneath Oppenheimer's surface.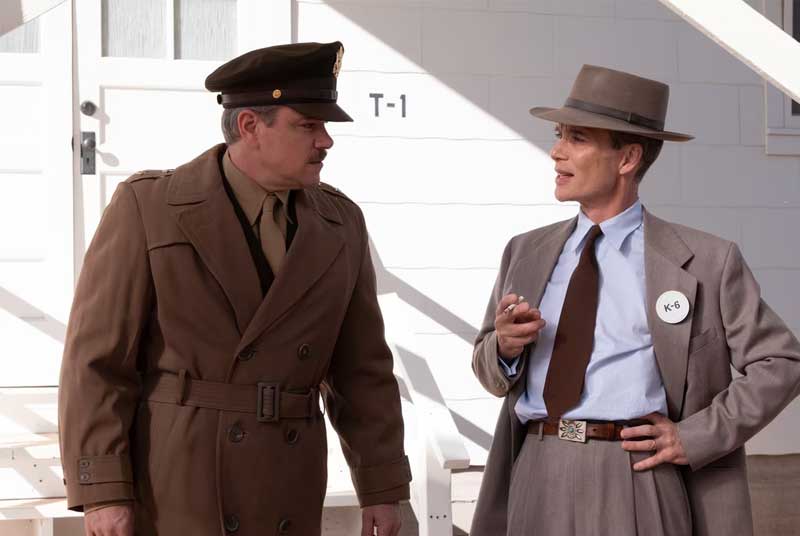 Being hailed as a hero for ending the war, plagued by remorse over Hiroshima and Nagasaki, and possibly yearning to atone for his sins through martyrdom, this guy is, after all, incredibly complex.
Nolan uses his subject's memories and visions as a kind of visual punctuation to enhance this finely honed performance, from raindrops rippling menacingly in puddles like bomb blasts to a chilling, fleetingly glimpsed depiction of "atmospheric ignition": a posited world-ending result of the first A-bomb test. 
The Trinity sequence, in which Nolan's SFX crew manages to approximate a nuclear explosion without the use of computer graphics, is absolutely amazing and shocking, and it includes what is arguably the most intense countdown scene in movie history. 
However, the movie is never more visually compelling than when it is taking place inside Oppenheimer's skull. This is especially true towards the film's drawn-out conclusion, when visions of his creation's life-snuffing effects seep into his waking existence with such a terrifying power that they will be difficult to shake for days.
A superbly crafted character study from a talented director working at a completely new level. a movie that forces you to think about it in addition to watching it.

For more Entertainment news, follow us on
Google News
and don't miss out on the latest updates!