Live parasitic worm found in Australian woman's brain stuns doctors
'This is the first-ever human case of Ophidascaris to be described in the world,' said medical experts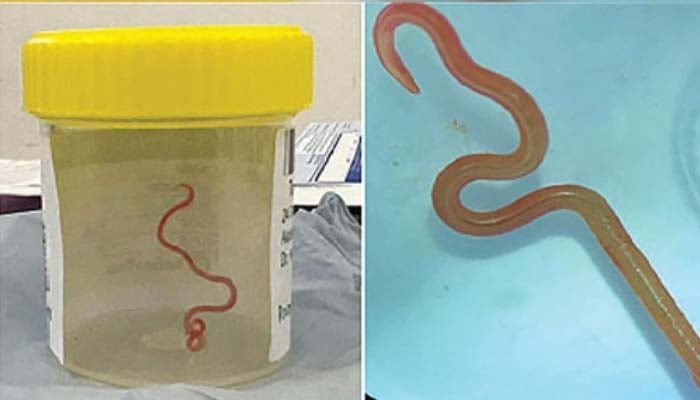 An Australian woman is on the path of recovery after going through surgery to remove a live 3-inch worm from her brain.
During the surgery of the 64-year-old, neurosurgeon Dr. Hari Priya Bandi removed the live parasitic roundworm.
According to the reports, the elderly patient first started having memory problems, the physicians ordered an MRI on the woman and discovered an "atypical lesion" near the front of her brain.
Ophidascaris robertsi, a roundworm measuring eight centimeters (three inches), was found in the patient. According to experts, this parasite is prevalent in kangaroos and carpet pythons, but not in people.
The infectious disease expert Sanjaya Senanayake said, "This is the first-ever human case of Ophidascaris to be described in the world."
Senanayake went on to say, "To our knowledge, this is also the first case to involve the brain of any mammalian species, human or otherwise."
BBC reported while quoting the operating surgeon Dr. Hari Priya Bandi, "It was definitely not what we were expecting. Everyone was shocked."
She continued, "Everyone was shocked. And the worm that we found was happily moving, quite vigorously, outside the brain."
Dr. Bandi stated that she had barely begun to touch the portion of the brain that had shown abnormally in the scans when she felt it.
DNA testing was then used to identify the parasite. The doctors claimed that the red parasite might have been living in her brain for up to two months.
The woman, who lives near a lake in south-eastern New South Wales, is doing well, according to the BBC.
According to scientists, the woman most likely acquired the roundworm while gathering Warrigal greens, a variety of natural grass near where she resided.
Dr Senanayake told BBC the case showed "as human population burgeons, we move closer and encroach on animal habitats."

For more Entertainment news, follow us on
Google News
and don't miss out on the latest updates!