'Pennyworth' star Paloma Faith strikes at 'The Little Mermaid' plotline
Paloma Faith said,"I don't want my kids to think it's ok to give up your entire voice"
Pennyworth star Paloma Faith is seemingly upset with the concept of The Little Mermaid after watching the movie with her daughters.

Faith, 41, who is known for her work in Pennyworth and Dangerous Liaisons shared her first-hand reaction on Disney's Live-action film The Little Mermaid which was released in theatres on May 26, 2023.
The British singer and actress turned to Instagram story and wrote, "as a mother of girls I don't want my kids to think it's ok to give up your entire voice and your powers to love a man."
"Expletive is this expletive. Not what I want to be teaching next gen women at all," she added.
Faith expressed her anger regarding the storyline only after praising Halle Bailey's performance as princess Ariel in The Little Mermaid.
"I think Halle gives a good performance and it's great casting," Faith wrote.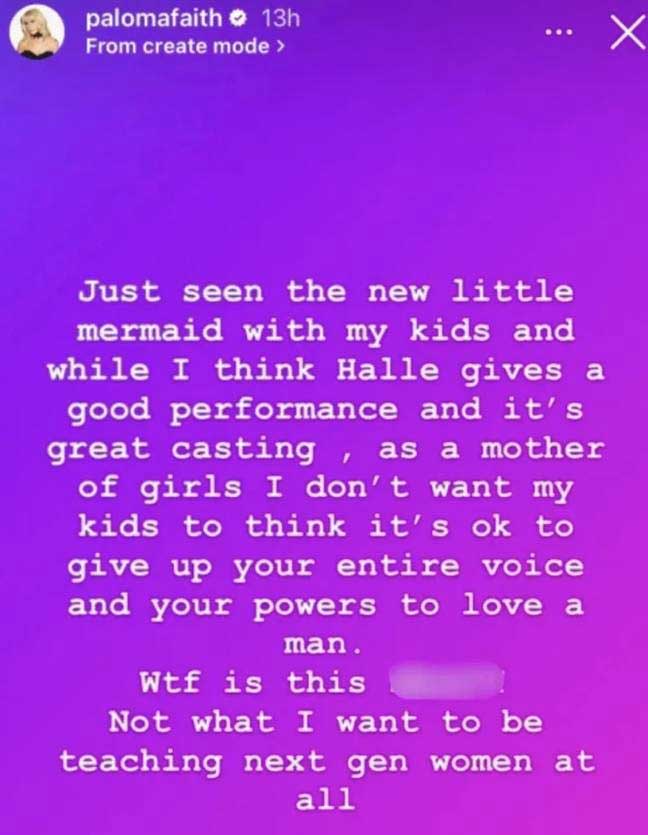 The Little Mermaid revolves around Ariel, who wishes to live on land as she falls in love with prince Eric. 
Therefore, she makes a deal with sea witch Ursula to use her powers to give Ariel legs and in exchange, she has to say goodbye to her voice.
Soon after the story was shared by Faith, fans started criticizing the actress questioning how she was unaware of the original storyline.
Some internet users also shared her 2009's tweet suggesting that Faith was a fan of The Little Mermaid.
"When I grow up, I want to be the little mermaid," she wrote at that time.

For more Entertainment news, follow us on
Google News
and don't miss out on the latest updates!