Eco activist spent 30 days wearing his trash – and by the end of the month it weighed 72 lbs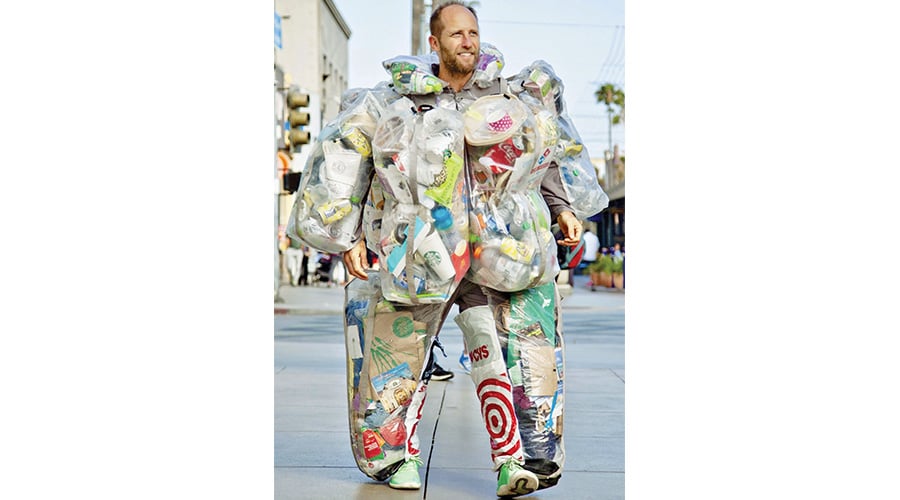 Rob Greenfield is all about extremes when it comes to letting people know how our actions are threatening the future of the planet. The 35-year-old Wisconsin native has ridden a bamboo bike across the country with no money, lived in a 100 square foot, solar-powered "tiny house" he built out of repurposed material, and eaten food he grew and foraged himself to show people that living sustainably is doable. His latest attention-grabbing and thought-provoking stunt came this spring when he donned a plastic "trash suit" for a month in Los Angeles, filling it with everything he'd thrown away each day. The message? To show people just how much waste we each produce. During Greenfield's "30 Days of Wearing My Trash" campaign, he stuffed about 2.5 lbs of trash per day into his suit. For 30 days, Greenfield ate out, shopped, and walked around Beverly Hills, Santa Monica and Los Feliz in his eye-catching suit, which he filled with discarded shopping bags, water bottle, coffee cups and other garbage. "To create a visual example of waste and not be smelly," he swapped raw food waste with the equivalent amount of dry rice – and every day that went by, the suit got heavier. This was a surefire way to get people thinking and even better, start to make environmentally-friendly changes.

For more Entertainment news, follow us on
Google News
and don't miss out on the latest updates!